The Manhattan Toy Company first began making the Groovy Girl dolls in 1998. They have been released continuously since then, with both regular and special edition dolls. In 2003, the Toy Industry Association awarded Groovy Girls "Specialty Toy" and "Girl Toy of the Year" at Toy Fair in New York City. In 2008, they were again given the honor of being named "Girl Toy of the Year" for the special Girl Scout Troop line of dolls Manhattan Toy produced after partnering with the Girl Scouts.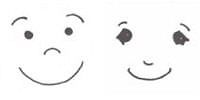 For the first two years, the faces were very basic, with simple "dot" eyes and a "u"-shaped smile with an upturned nose. In about 2000, the eyes became more detailed, larger and more "beady", the mouth was more subtle and smaller, not every doll had the exact same expression, and the nose became downturned and smaller. Around the same time, the dolls' tags began featuring their names, where they had not before. A Groovy Girl (or Boy) doll with a simple face and a small nameless tag likely indicates a doll from 1998-99, including L-Series #1 (Lexi, Liza, Lucy, Lupe), Z-Series (Zane, Zarah, Ziggy, Zöe), the 19-inch M-Series (Max, Michaela), and 40-inch L-Series (Supersize Lexi).
If your post-2000 doll has the name tag still present on its rear, you can check the tag for the doll's name and year of production. Otherwise, keep in mind that dolls produced during and after 2000 have the "sweeter"-looking face with beady eyes with white highlights and a downturned nose.
In 2007, the faces gained colored eyes. A Groovy doll with colored eyes indicates any doll from late 2007-the present.
Also, beginning with the RSVP characters, thinner and more stiff yarn was used for their hair.