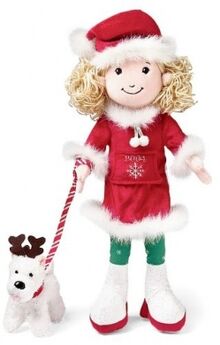 Noella is a Christmas themed Groovy Girl from 2004. She has pale skin and curly blonde hair. She wears a santa hat and a red velvet dress with white fur cuffs. Her dress says "2004" on the front. She has sparkling white shoes and green leggings with a snowflake pattern. She has a small white terrier dog wearing reindeer antlers. Noella loves Christmas!
Ad blocker interference detected!
Wikia is a free-to-use site that makes money from advertising. We have a modified experience for viewers using ad blockers

Wikia is not accessible if you've made further modifications. Remove the custom ad blocker rule(s) and the page will load as expected.