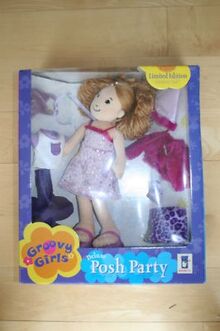 Posh Party is a party themed limited edition Fun Pack from 2001. It comes with a doll named Sasha.
Description
Edit
Sasha's hosting a fun fashion-themed party tonight, and has a wardrobe full of fancy outfits to show off to all her guests. She's ready to hit the dance floor and strut her stuff with a variety of different clothes to mix and match!
Appearance
Edit
Sasha is a girl with light brown hair worn down. She wears a simple lilac sundress with magenta trim on the top, and magenta spaghetti straps to match. On her feet are a pair of removable sandals which are also lilac with magenta straps. Her feet feature detailed toes. Also included with Sasha are a leopard-print purple skirt, a white jersey-style tee with purple sleeves and a purple pocket to match, a fluffy magenta jacket, what looks like a royal purple pair of pants or a scarf, and a purple purse as an accessory.
Name Meaning
Edit
Sasha is Russian and means "man's defender".
This was the first Fun Pack ever created.
Ad blocker interference detected!
Wikia is a free-to-use site that makes money from advertising. We have a modified experience for viewers using ad blockers

Wikia is not accessible if you've made further modifications. Remove the custom ad blocker rule(s) and the page will load as expected.