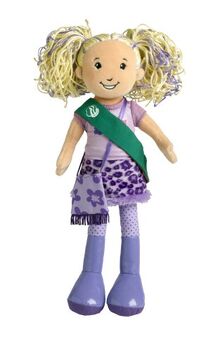 Respectful Roxi is a Troop Groovy Girl from 2007. She was one of the original five Girl Scout girls released.
Appearance
Edit
Her color scheme is purple. She has fair skin and blonde hair with light purple highlights. She wears a purple shirt that says "Respect" and a purple leopard print skirt. Her boots and leggings are both periwinkle blue, and the leggings have small polka dots. She comes with a reversible Girl Scouts sash (green on one side, brown on the other) and a purple purse. She has an open mouthed smile.
Ad blocker interference detected!
Wikia is a free-to-use site that makes money from advertising. We have a modified experience for viewers using ad blockers

Wikia is not accessible if you've made further modifications. Remove the custom ad blocker rule(s) and the page will load as expected.