This is a Limited Edition Groovy Girl line from 2014. It features three girls decked out in party-perfect, long dresses and sporting wild and wacky hair to match their color theme.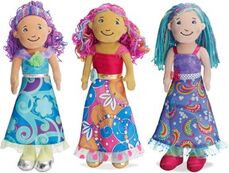 Characters
Edit
Each one's name is inspired by their favorite color.
They are the third "party" themed line. The first was RSVP from 2008-2009, and the second was the 15th anniversary line from 2013.
The name of the doll line is a reference to the fact that their release date coincided with the 16th anniversary of the Groovy Girls franchise.
All 3 dolls in the line have blue eyes.
Ad blocker interference detected!
Wikia is a free-to-use site that makes money from advertising. We have a modified experience for viewers using ad blockers

Wikia is not accessible if you've made further modifications. Remove the custom ad blocker rule(s) and the page will load as expected.