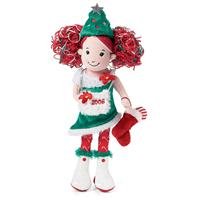 Tessa is a Christmas themed Groovy Girl from 2006. She has fair skin and bright red hair with white and green highlights. She wears a green velvet dress with white fur edging. She has white boots with green fur, and red leggings with white candy cane patterns. Her white fur muff says "2006" on it. To go with her name, she has a very cute Christmas tree (Tannenbaum) hat! She also has a Christmas stocking with a candy cane in it.
Ad blocker interference detected!
Wikia is a free-to-use site that makes money from advertising. We have a modified experience for viewers using ad blockers

Wikia is not accessible if you've made further modifications. Remove the custom ad blocker rule(s) and the page will load as expected.